IMO supports future women maritime leaders
IMO's Women in Maritime programme has sponsored women from developing countries to participate in the inaugural SheEO leadership scheme.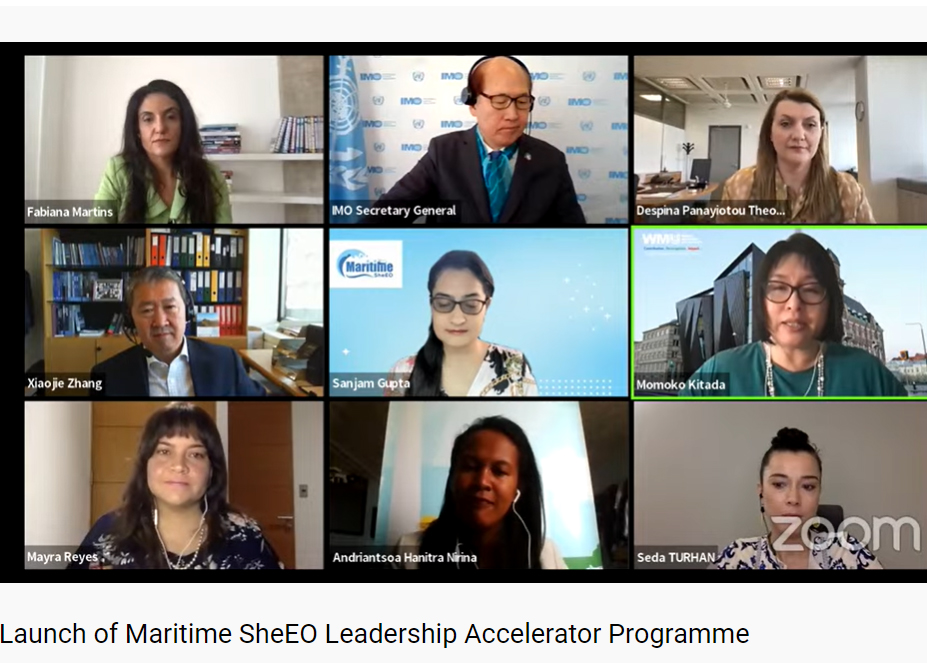 The International Maritime Organization (IMO) sponsored Maritime SheEO leadership accelerator programme was officially launched at a virtual event held on International Women's Day 2022. The event was attended by more than 200 participants from across the globe, who heard from IMO Secretary-General Kitack Lim, Maritme SheEO Founder Sanjam Gupta, president of the Women's International Shipping & Trading Association (WISTA) Depina Theodosiou; International Chamber of Shipping President Guy Platten, and also some participants from the programme itself.
Addressing the virtual audience, IMO Secretary-General Kitack Lim said, "The maritime industry is working to transition to a more sustainable future. To this end we must decarbonize, digitalize, increase efficiency and fight climate change. This transition cannot take place without the brightest minds working to find solutions. I am pleased that IMO is sponsoring 30 spaces for women from around the world to participate in the Maritime SHEeo leadership programme. This programme will empower women from our sector to become future maritime leaders and create diversity legacies in their own organisations."
Despina Theodosiou, President, WISTA International added, "The women who will begin this programme represent our future. Our objective is that we should increasingly build up gender and diversity awareness, where leaders do not choose their workforce based on gender, colour or ethnicity, but on capability and being fit for the job."
Sanjam Gupta, Founder, Maritime SheEO said, "Women leaders will bring skills, different perspectives, and innovative ideas that lead to better decision-making as a whole for the business. We are delighted that the IMO is furthering their commitment by offering 30 global scholarships to women in maritime in helping us reach this goal. This project would not be possible without the collaboration and support of WISTA International. Together we can drive change"
Inspiring new generations
The Maritime SheEO leadership accelerator programme aims to equip women with the leadership skills and confidence to take a seat at the shipping decision-making table. The programme was originally announced in November 2020 but the launch was delayed due to the COVID-19 pandemic. The newly launched programme will run over eight weeks in mid-2022, with a weekly commitment of three to four hours of learning.
As part of IMO's ongoing work to support gender diversity in the maritime sector, the Organization has sponsored 30 women from developing countries to participate in the programme. The participants are a mix of candidates from the eight IMO Women in Maritime Associations (WIMAs) and WISTA International.
The programme includes multiple modes of interactive learning including digital, immersive and applied learning, and will feature a range of guest speakers, coaches and networking opportunities. Participants will gain certificates upon meeting completion and performance thresholds.
Women in Maritime - IMO's gender programme
Since IMO's gender programme was initiated in 1988, IMO has supported gender equality and the empowerment of women through different initiatives such as: gender specific fellowships; by facilitating access to high-level technical training for women in the maritime sector in developing countries; by creating the environment in which women are identified and selected for career development opportunities in maritime administrations, ports and maritime training institutes; and by facilitating the establishment of professional women in maritime associations, particularly in developing countries.
Under the slogan: "Training-Visibility-Recognition", IMO has taken a strategic approach towards enhancing the contribution of women as key maritime stakeholders. Raising awareness is crucial. The Turning the Tide film and the Social Media Wall and women in maritime photo bank, #MaritimeWomenPhotoShare are good examples. IMO has invited women of the maritime sector to share photos of themselves at work, using the hashtag #MaritimeWomenPhotoShare with the aim of showing a diverse representation of maritime roles, so that young women can be inspired when deciding to embark on a maritime career.
International Women in Maritime Day
On 18 May 2022, the maritime sector will celebrate the inaugural International Day for Women in Maritime. The observance will celebrate women in the industry and is intended to promote the recruitment, retention and sustained employment of women in the maritime sector, raise the profile of women in maritime, strengthen IMO's commitment to the United Nations Sustainable Development Goal 5 (gender equality) and support work to address the current gender imbalance in maritime.
The date was set in a resolution adopted by the IMO Assembly in December 2021.
For further information, click here.

To find out more about the Maritime SheEO leadership accelerator programme, please visit: Maritime SheEO