IMO's Sekimizu issues fresh condemnation of Mediterranean people smugglers
Recent incidents in which hundreds of migrants attempting to cross the Mediterranean to Europe have lost their lives, including dozens found dead in the holds of the ships that were carrying them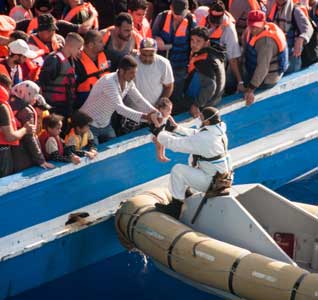 Recent incidents in which hundreds of migrants attempting to cross the Mediterranean to Europe have lost their lives, including dozens found dead in the holds of the ships that were carrying them, have prompted strong condemnation and refreshed calls for concerted action to tackle people smugglers from IMO Secretary-General Koji Sekimizu.

Mr Sekimizu said that smugglers were sending people to sea in craft that were totally unsuitable for passengers and crowding them on board to levels that were completely unsafe.

"Not only are these activities illegal," said Sekimizu, "they are also carried out with a callous disregard for human life and a total disrespect for any of the internationally accepted standards for safety of life at sea, developed and adopted by IMO. These boats should never be allowed to go to sea in the first place, and the perpetrators of these appalling crimes against humanity must be stopped."

Mr Sekimizu praised the efforts of vessels operating under the auspices of the European Union in intercepting a number of smuggling voyages and saving thousands of lives. However, while commending the efforts of those participating in rescue operations, including navies, coast guards, merchant ships and private vessels for their role in rescuing the survivors of these potentially deadly voyages, Mr. Sekimizu called for stronger action by governments and the international community to prevent migrants undertaking risky sea passages in the first place.  "The sea is an unforgiving place. Any rescue operation is a dangerous undertaking for all concerned and places lives at risk – including those of the rescuers," he said. "Ideally, these vessels should be prevented from taking to sea at all. I urge governments and humanitarian organizations to better manage migration ashore and authorities in the departure zones to redouble their efforts to keep overloaded, unsafe vessels from taking to sea."

A special session of IMO's Maritime Safety Committee on unsafe mixed migration by sea was held on 9 June, when it was agreed that greater focus needs to be placed on addressing unsafe migration by sea through more safe and regular migration pathways. Addressing the meeting, UN Secretary-General Ban Ki-moon said this global issue required everyone to work together with a comprehensive approach, which would protect human rights, uphold international law and recognize the benefits of migration. The Maritime Safety Committee agreed to continue to address matters pertaining to "Unsafe mixed migration by sea", and invited IMO's Facilitation Committee and Legal Committee to do the same.

Mr Sekimizu said the current situation was a truly humanitarian crisis and was simply not sustainable.

In July, a new inter-agency platform for information sharing on migrant smuggling by sea was launched by IMO, the International Organization for Migration (IOM) and the United Nations Office on Drugs and Crime (UNODC), in order to better understand unsafe mixed migration by sea. It is anticipated that the platform will assist in improved monitoring of incidents associated with unsafe and irregular mixed migration by sea globally, with a view to better analysis of trends and the identification of potential solutions.

The platform was initiated following the Inter-agency High-level Meeting to Address Unsafe Mixed Migration, which was held at IMO Headquarters in March, with the aim of aim of facilitating dialogue and promoting enhanced cooperation and harmonization between United Nations agencies, international organizations, non-governmental organizations, Governments and the shipping industry.